Forgotten my log in details
If you've
forgotten
or aren't sure of your
login details
for the CommScope Training Academy you can reset your details by selecting the forgotten password option. You will be required to enter your email address associated with your account and an email will be sent with a link to reset your password. Please note this link will only be valid for 24 hours.

If you are unsure of your username please contact us and we can provide you with these details, w
e
cannot
reset your password manually so you will need to reset your password using the forgotten password option.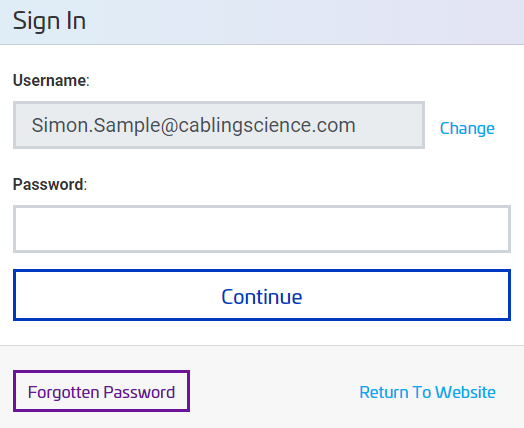 Some emails may take a few minutes to arrive, so please allow 10 minutes, then check your spam or junk folder.
To ensure these emails come through to your inbox we recommend adding the domain @commscopetraining.com to your safe senders list.
Related Articles

Why can I not log into the App

You will be able to log into the Infrustructure Academy App using the same login details as your account on the Training Academy. Please note that only CommScope Business Partners will be eligible to access the Infrastructure Academy App. If your ...

How to activate my account?

To access your account for the first time, you will need to verify your email address. An email will have been sent to your email inbox containing a link. Click this link to activate your account. If the link has expired, or you have not received an ...

Single sign on with MyCommScope

You are able to log into the Academy by using single sign on if you have an account with MyCommScope. Clicking on the 'Log in with MyCommScope' button is the first step. This will redirect you to MyCommScope and ask you to enter your log in details ...

Privacy Policy

Cabling Science, as CommScope's authorized training provider has long recognized that individuals with whom we conduct business value their privacy. However, to conduct global business in this increasingly electronic economy, the collection of ...

My Credit Card has been rejected. What can I do?

Payments made on the CommScope Infrastructure Academy are processed using Stripe, a leading and globally recognised payment clearing system and this allows us to accept payments from anywhere in the World.Credit cards may be rejected, refused or ...