Re-invigorating the SYSTIMAX Training Badge Program
For nearly 20 years, CommScope's training badge program has enabled students to promote their certification to customers, consultants and colleagues. Based on feedback from students, we are making some improvements to the program.


Badges will now be created and made available to students as they complete the appropriate courses. Previously they were produced on request, but now they will be available automatically provided a photo is on the student profile.


In addition, we have introduced new badges for the SYSTIMAX Design and Engineering, Installation and Maintenance certifications, and ImVision Support Specialist. We believe this will make it easier and clearer for students to display their achievements.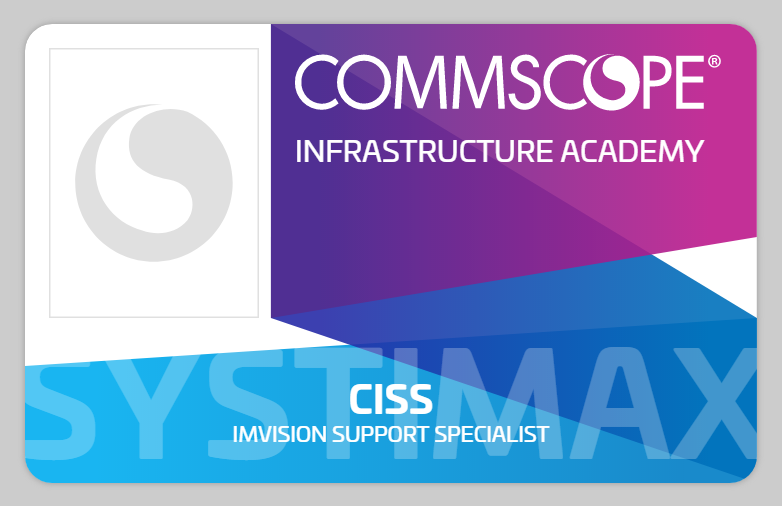 For up to date information on the CommScope Infrastructure Academy certification and badge program, please view the latest program document at – https://www.commscopetraining.com/about/certification-and-badging/

Related Articles

Use the CommScope training app to access your training credentials

Download Your CommScope Infrastructure Academy App Now Why should your learning end just because the course has been completed? It shouldn't and we thought so too. As part of the SYSTIMAX training experience, we have put the training in your pocket ...

Issuing an ID badge ATA

Some courses such as the SYSTIMAX ND3361 award ID badges for CommScope Partners, the photo ID badge will be provided for relevant training courses via the Infrastructure Academy App. More information on the app can be found under the ABOUT US tab and ...

When will I receive my certificate or badge?

Certification is provided for all successfully completed courses. Self print certificates are issued for SYSTIMAX, Netconnect, Wireless and Broadband courses and these can be found on the My Training area and the certificates tab on the left hand ...

How do I access my badge?

For CommScope Partners, a photo ID badge will be provided for relevant training courses which will be visible from the badge page of the 'My Dashboard and via the Infrastructure Academy App. For more information on Badges and which courses are ...

What happens if my Training Passport expires?

A Training Passport may be renewed every year and this allows you and your company to continue taking advantage of the great benefits that come with a Training Passport. If however you choose to not to renew your Training Passport then we understand, ...